AUTUMN / WINTER GIFT WITH PURCHASE
We're obsessed with the wonderful Australian brand, HOMMEY.
And very excited to be partnering with them to bring you your Autumn / Winter gift!
Receive an amazing HOMMEY $129 AUD gift voucher to use on their website with any full price order.
Stay warm + toastie as the leaves fall and the temperature drops while showering outdoors. Slip on some Willow slides or wrap yourself up in one of their snuggly robes.. #TOASTIE #OBSESSED
Our gift offer is limited so be sure to grab yours before they're gone x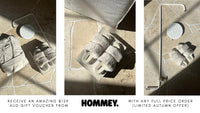 SGO OUTDOOR SHOWER COLLECTION
Designer, stylist, builder or architect?
Be sure to email hello@slightlygardenobsessed.com for an industry discount code to use at checkout (ABN or business registration details required)
To our USA customers...
We are now shipping direct to the US #WOO!
This is great as you now pay the same price as our Australian customers and, most times, we have stock to ship immediately to your door.
For these showers, we include a 7 LPM flow restrictor to meet the 1.8 GPM (required in some states) & send you a video on how to weld our 1/2 inch copper pipe to the US 1/2 inch copper pipe.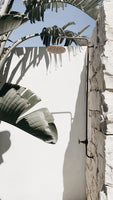 Warranty & Installation
Each completed piece is water pressure tested and comes with a 12 month warranty. Showers are to be installed by a licensed plumber only. Copper crimp tool to be used in AUS & NZ.
AUSTRALIAN STANDARDS + WELS RATING
SGO Outdoor Showers are to Australian Standards + are 3 star WELS rated w 9LPM flow (7LPM for our US models).